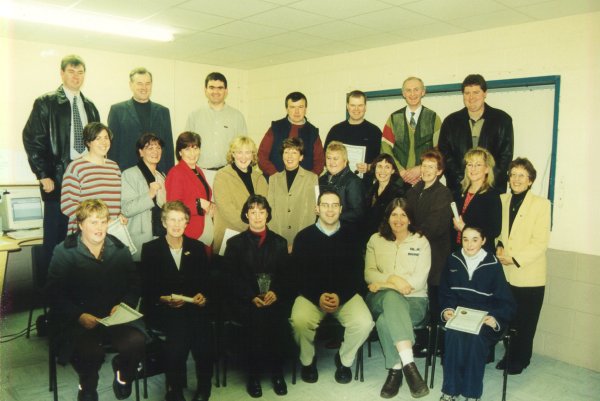 People who completed the Computer Training Course in Kilconly

Back row - left to right:
Colm Concannon (Vice Chairman),Michael Harty(Chairman),Kieran
Burke(Secretary)(All of Kilconly Developement Association),Gerry Martyn
,Peter o Callaghan,Michael Byrne,Kevin Murphy.
Middle Row - Left to Right:
Brid Zuchvic,Marie Wooley,Ita Hynes,Helena Farrell,Maura Boland,Janey
Byrne,Mary Blake,Mary Daly,Peggy O Malley,Judy Moggan.
Front Row - Left to Right:
Josephine Farrell,Helen Flanagan,Marie Byrne(Course Instructor),Trevor
Watson(Lake District Enterprise Ltd.)Ann O Connor,Siobhan Walsh.